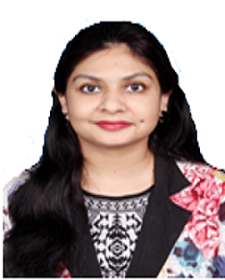 Ms. Parul is a corporate trainer and motivational speaker. She is very energetic, dynamic person with full of zest for life. She believes that humans are the best creation of God and they have unlimited potential within them and through her training sessions she helps them in realizing their deepest potential by overcoming the limiting belief of their lives and thus bringing an enormous transformation in the life of the participants. She is very creative by nature and her creativity is reflected in her training sessions which are activity based, interactive and result oriented.
Parul carries rich experience of more than 8 years in education arena. She has amassed vast experience in grooming and shaping of young minds
She is post graduate in Biochemistry and has done Bachelors in education from Mumbai University. She Have created a niche for herself in education field , she conducts training sessions in schools on soft skills with an aim to augment the emotional quotient of the students which is a major prerequisite for their success in this digital age .
Specialisation:
Self belief and self confidence building
Goal planning
Creative thinking
Leadership and Teamwork
Time management
Stress management
Etiquettes and Grooming
She conducts her sessions in a very engaging way which includes storytelling and various interactive activities, thus providing a unique experience to her participants who attend her sessions. Her deep perspective and simplicity leaves a long lasting impact on her participants.