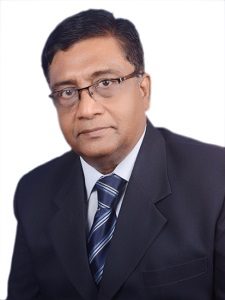 Mr. Raju Bhagwati is a Certified Life Coach, Corporate Trainer, Motivational Speaker and Instructional Designer. He believes that training should have a lasting and deep transformational effect on the participants, so that they can lead a highly productive life. He is a strong believer in the importance of self-discipline and punctuality in one's life. He also believes that Life should be a constant and never-ending process of Learning and Self Improvement.
Raju Bhagwati has a master's degree in Physics and verified certificates of achievement in Effective Leadership from University of Queensland, Australia and in Science of Happiness from University of California, Berkeley. He also has verified Diplomas/Certificates in Psychology, Personnel Management, Stress Management, and in many other Soft Skills. He is Alumni of the prestigious Indian Institute of Public Administration and Indian Institute of Statistical Training and Management, Ministry of Home, Government of India from where he has done advanced courses in Public Administration.
He has nearly two and a half decades of qualifying service at senior positions in the Armed Forces Headquarters, New Delhi and retired as a Deputy Director from Directorate of Mechanised Infantry, General Staff Branch in Army Headquarters, New Delhi. He also worked as Senior VP and HR/Admin Head of a NSE/BSE listed, large manufacturing company in Mumbai. He has a vast experience in different areas of Human Resource Management due to which he has developed a deep understanding of training and development needs of the employees.
Raju Bhagwati is a passionate learner in the areas of Soft Skills development, Human Psychology and Neuro Science. In his training workshops, he can spontaneously connect with the participants. He believes that training should have a lasting effect on the participants and empower them to lead a Stress free, highly productive and fulfilling life so that they become catalysts for change and add tremendous value to the place in which they work and to the community at large.
SPECIALIZATIONS:
Stress Management
Time Management
Communication Skills