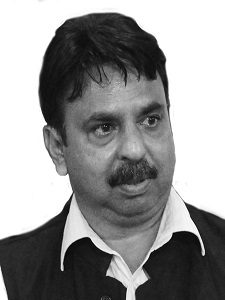 Mr Praveen Kumar Sagar is a motivational speaker, Success Trainer and Life coach. He believesthat every individual is a powerhouse of tremendous hidden potential and through proper training and coaching he can be guided to his hidden treasure. This will enable an individual in achieving all his desired goals and bringing laurels to himself as well as to his associated organisation
Mr Sagar is a positive, laborious and go getter. He is a creative and motivated individual who don't leaves any stone nturned until he reaches his goal. He is highly passionate and committed for his goal of triggering the passion in others for ransforming their lives.
Mr Sagar has a master's degree in Science and have rich experience of 21 years of corporate culture. He is a certified trainer from IATD Chennai.
He is the author of book ' Khyaal-e- Zindagi ', which is a collection of couplets of his rich experiences of life. He is a oracious reader and as of now he has completed 135 titles comprising from different walks of life namely self-improvement, nagement, spirituality, mythology, psychology, etc. experience of life and corporate culture has developed in him intense
understanding of training needs of employees. His sessions fuel energy into participants to motivate them to achieve success in their personal and professional career.
SPECIALIZATIONS:
Motivation
Emotional Intelligence
Goal Setting.