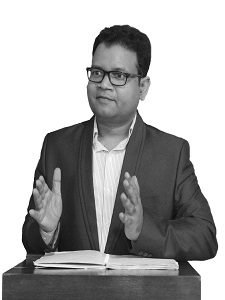 Amit Kumar Mahto
CWM, Course Director
Mr. Amit Kumar Mahto is a corporate trainer, motivational speaker, life and wealth coach. He believes that every individual has tremendous hidden potential and through proper training and coaching one can be guided to achieve all his personal, professional and financial goals. This will enable an individual in achieving all his desired goals and bringing the best to himself as well as to his associated organization.
Mr. Amit Kumar Mahto is a positive, enthusiastic and ever smiling person. He is a focused and self-motivated individual who always puts extra and fights till end to achieve his goal. His passion and commitment for training & educating people, makes his class entertaining & interactive and it makes memorable to participants.
Mr. Amit Kumar Mahto is a Chartered Wealth Manager from American Academy of Financial Management and Certified Master Trainer from IATD, Mumbai with over 17 years of experience in financial sector. With his financial planning & wealth management, training, sales and team management skills, he has been managing 1000+ clients with 50+ Crore of AUM. His rich experience and in-depth knowledge helps people in achieving their personal, professional and financial goals.
His goal is to touch lives, inspire people and help them in achieving success in life. His rich corporate experience helps him bring relevant examples in the training sessions. Customer focus, communication and his decision-making capabilities have always made him stand apart in his professional career.
His in-depth knowledge on training need analysis ensures all his trainings add value to the business growth of both individuals and organizations. Mr. Amit Kumar Mahto is an excellent story teller and a bidirectional communicator. His seminars and workshops are very interactive, interesting and exceedingly useful to the participants.
SPECIALIZATIONS:
Investor Awareness Programs, Financial Planning & Wealth Management
Sales Management Training Program
How to Recruit, Train, Develop and Retain Life Advisors
How to Lead a Happy & Stress-Free Life.