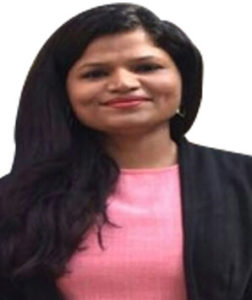 Kasturi Shetty Panchal is a NLP Coach, Emotional Intelligence Trainer & Body –Mind Makeover Coach.
Kasturi deeply believes in Making Things Simple as the secret of Genius is not Complexity, its SIMPLICITY. As Learning is a lifelong process so she believes in the quote "Sweat More in Training to Bleed Less in War".
Kasturi is a commerce graduate and done "Breakthrough" course with Tony Robbins and has more than 10 years of experience in Information Technology Sales & Services and also has an Training Experience experience of 7 years in Health & Wellness Industry. Have worked with companies Hewlett Packard, Zenith Computers, Info city, L'Oréal.
Kasturi's Passion in training makes her training session more interactive and her in depth knowledge in Emotional Intelligence and NLP techniques makes easy for the participants to understand, implement and execute their Task easily.
Kasturi is a go getter and a trained coach She inspires people to break away the limiting beliefs and other mental blocks by coaching them and aggressively getting behind them because of this her sessions are interactive, aimed to create transformation in mindset as they facilitate the participant at all level to introspect (to recognize own thought and examine it).
Kasturi is specialized in:
Interpersonal skills training
Stress management
Meditation at work
Emotional Intelligence and work
Successful Communication
Goal Setting
Her In-depth practical knowledge & Expertise in understanding Human behaviour ensures all her trainings add value to the business. Being a practical person and a superb storyteller Kasturi's class will be an Interactive session with real examples of great people, proven techniques to implement & get the results & will also test the skills by doing activities and much more.